Ningbo Kemii Packaging Co.,Ltd is a professional printing and paper products manufacturer, providing one-stop packaging design, raw material procurement, production and sales of a complete set of services. Our main products include: cardboard cartons, printed boxes, food packaging, product packaging, product packaging bags. Currently has more than ten years experience in manufacturing and services, we have established a quality control system and cost optimization systems, coupled with advanced equipment, both in the pre-sales service, product quality or price provides a powerful advantage.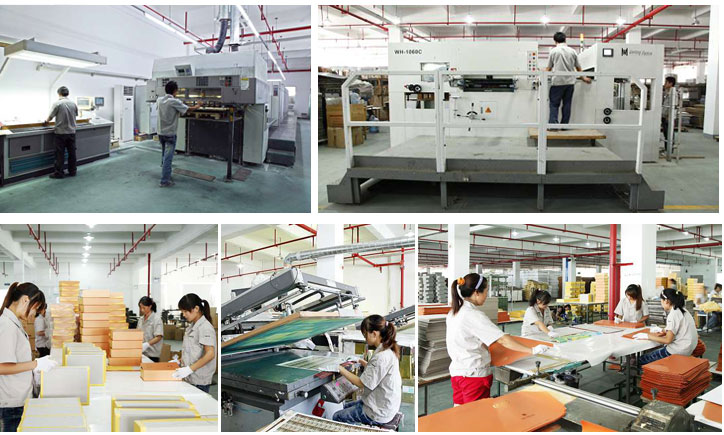 We believe that quality is the guarantee of success, Yong Teng quality assurance indicators are based on product design, equipment, production processes, operations management and control system based on the.
Our R & D department by experienced technicians and designers, who designed the product more than simply meet your requirements - appearance, bearing, costs, etc., and is in line with actual production.
2. Equipment and capabilities
We have a range of advanced equipment:
Five-color Roland 900 presses
Roland 700 six-color presses
Automatic screen printing machine
Automatic laminating machine
Automatic folding machine
Bronzing machine, embossing and so on.
Have these advanced devices, you can do all the pre-press, the whole process of India and India. And all production within the factory is completed, these devices make our production more streamlined and more efficient. One to reduce the transport and processing of man-made fault
Secondly, we conduct regular monthly skills training, so that our qualified workers to their jobs. Proper operation and maintenance of equipment will enable us to maximize performance.
3. Processes and operations
From the beginning until the delivery proofing products, we have a set of strict process control procedures.
- Careful communication with customers, understand customer needs and the needs of customers is reflected in designs
- Making the production schedule table, set the key quality control points
- Formulate delivery schedule, completion of all production processes arrangements
- The introduction of the production process quality control system among the quality control department at a critical node for quality testing.
- Business Unit to keep track of the production schedule, and timely reports to clients
c. after the end of production
- The last self-test and packaging
- Accept the customer or third party inspection
- According to the agreed delivery
We passed the ISO9001 certification, has a perfect quality control system inspection and maintenance of equipment and inspection system to ensure that all the processes are under control, and there are documented.
As a factory, we have created an effective system to provide quality services to our customers. Quality, production capacity and production flexibility is our core, we are committed to any inquiry will be answered within 24 hours.
We specify the delivery time according to a strict plan, detailed arrangements and monitoring procedures allow us to take precautions, even if there is a problem the first time can be found to ensure delivery.
We are direct factory, all production in-house, our prices are very competitive.